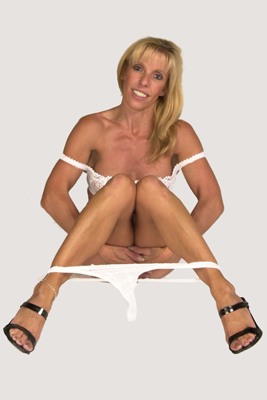 From time to time, I am asked if I would sell my panties. I will say yes, and then have to tell the person what I have available and go from there. It can be tedious for the both of us, and it really shouldn't. I decided that I will instead develop this page that shows all the various panties I have for sale. These are all real panties that I have worn and not just things I bought to sell (as I see much too often). I buy what I like, wear them for a little while, then replace them with new ones. I have a huge rotation of panties, I always have.
This is now really quite easy. You e-mail me at panties@carolcox.com telling me which panties you would like. (ie. #A012) and tell me how you would like to pay, either Paypal or mailed cash or money order. I will wear the panties for the day, and seal them in a plastic bag immediately after I take them off. I will also take a couple of pictures of me wearing them holding a Fan Sign just for you (and saying whatever you would like it to say).
Price (includes shipping and handling costs):
• $30.00 USD for your choice of panties and with a couple of pictures included.
• $50.00 USD for you choice of panties and a 5 minute video of my playing with myself while wearing them (and saying whatever you like)